This is a man who's written 60-plus books about personal development, so it's safe to say he knows a thing or 12 about the subject.
That's an important consideration, really, because if you want to become a dentist, you study dentistry. if you want to become a biologist, you study biology. However, something strange happens in our society in that 100 of us start out wanting to become successful, yet, few — very few — study the subject matter of "SUCCESS".
Putting the obvious aside for a minute, this brings us to a simple formula:
If success is goals, what are goals?
Goals, it could be argued (very successfully mind you), are the RESULT of supportive habits.
Supportive habits create the realization of any goal!
For instance, the goal of writing a book is — and can only be — the RESULT of the writing habit! The goal of running a marathon will be the RESULT of developing the running habit. Becoming stronger is the result of the weightlifting or push-up habit.
On and on it goes.
So, to get to our endpoint, we just invert the formula:
Habits -> Goals – > Success!
A Powerful, Paradigm-Shifting Book
If you'd like to learn about aligning positive, constructive habits with your goals, check out The Habit Factor. There's also an app with the same name (free and paid) and you can track those habits that will help you achieve your goals more easily.
A Powerful, Free Habit Tracking Resource
This habit tracking worksheet (below) is FREE and it's powerful. It helps greatly to keep me focused and organized, and provides instant visual feedback and motivation.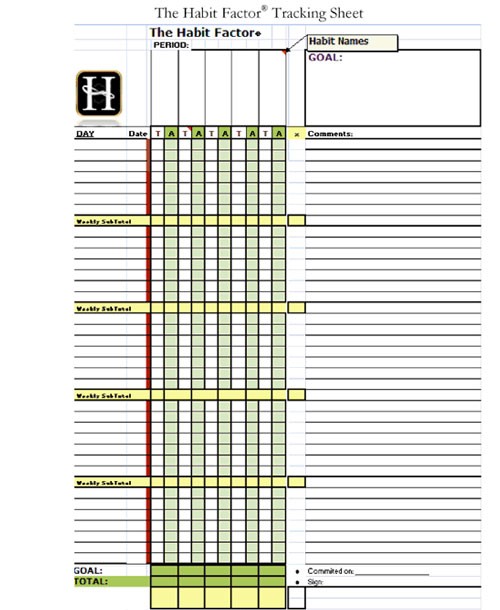 Try it!
After just ONE week of tracking I feel even more motivated and have great momentum… I'm excited to see all that I've accomplished and begin to believe in what is possible!
So check out this free tool and give the habit-alignment method of goal achievement a shot. Go easy on yourself if you miss a day, two or even a week of tracking… just stay after it!
Here's to your sucCcess!
You may also like: